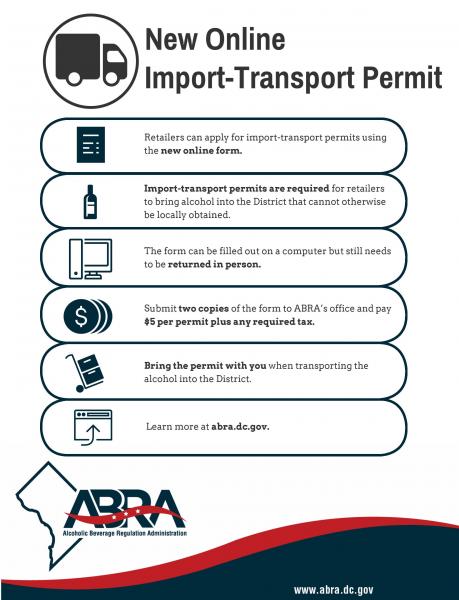 District alcohol-licensed retailers are required to obtain a permit in order to import and transport alcoholic beverages into the District of Columbia. An import-transport permit may only be issued to a retailer for alcoholic beverages that cannot be obtained in sufficient quantity from any licensed manufacturer or wholesaler in the District of Columbia.
To apply for an import-transport permit:
Complete the form below;
Sign the form (the licensee or the licensee's authorized designee may sign);
Print two copies;
Submit the two copies in person to ABRA's office: 2000 14th Street, NW, Suite 400 South, 4th Floor, Washington, DC 20009;
Pay a $5 fee for each import-transport permit in addition to any necessary gallonage tax.
Forms may be submitted at ABRA's office between 8:30 am-4 pm, Monday-Friday.
Payment can be made in the form of a cashier's check, certified check, business check, attorney's check, personal check, or money order. A check or money order must be payable to the DC Treasurer. Payment may also be made by Visa or MasterCard.
The import-transport permit must accompany the shipment of alcoholic beverages.