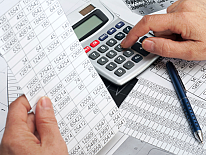 ABC licensed restaurants and hotels are required to file quarterly statements with ABRA to report the previous quarter's:
Gross sales receipts for food and alcohol
Total expenses for the purchase of food and alcohol
Quarterly statements may be reported online or with a printed form. Instructions are available for completing the form.
Restaurants and hotels are required to meet annual gross food sales of:
$2,000 per occupant or 45% of annual gross receipts for a class C license
$1,500 per occupant or 45% of annual gross receipts for a class D license
Hotel sales requirements are based on dining room occupancy.
Statements are due on the following dates for each quarter:
April 30 reporting January–March (Q1)
July 30 reporting April–June (Q2)
October 30 reporting July–September (Q3)
January 30 reporting October–December (Q4)
Quarterly statement forms can be submitted by:
Selecting "save" on the online form
Fax to (202) 442-9563
Mail or deliver in person to 2000 14th Street, NW, Suite 400 South, Washington, DC 20009
Statements submitted by regular mail should be sent by certified mail to ensure the submission is received. Late statements may be subject to penalties. Licensees are encouraged to attend Books and Records Training to learn more about quarterly statement filings.